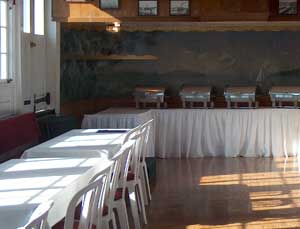 It's a chance to enjoy each other before the big day. Aboard the premier charter boat on Lake Minnetonka In-Laws to be can get to know each other a little bit better in the comfort of one of our three decks. The bride and groom can take a moment to thank all the people who have made their wedding possible, and the wedding party can relax a little. From casual to formal, the Lady of the Lake is the ideal setting for this most unforgettable event.
Custom Catering
Whether you're looking for an elegant meal or a more casual repast, we will work with you to create a menu that reflects your style and budget. We can take care of all your wedding related events:
bridal shower
rehearsal dinner
wedding day brunch
reception meal
The Lady of the Lake offers full bar service and a sterling wine list. We can happily make sure favorite spirits are well stocked for your occasion.
Reserve the Lady of the Lake for your Date.
Call (952) 929-1209 Now!