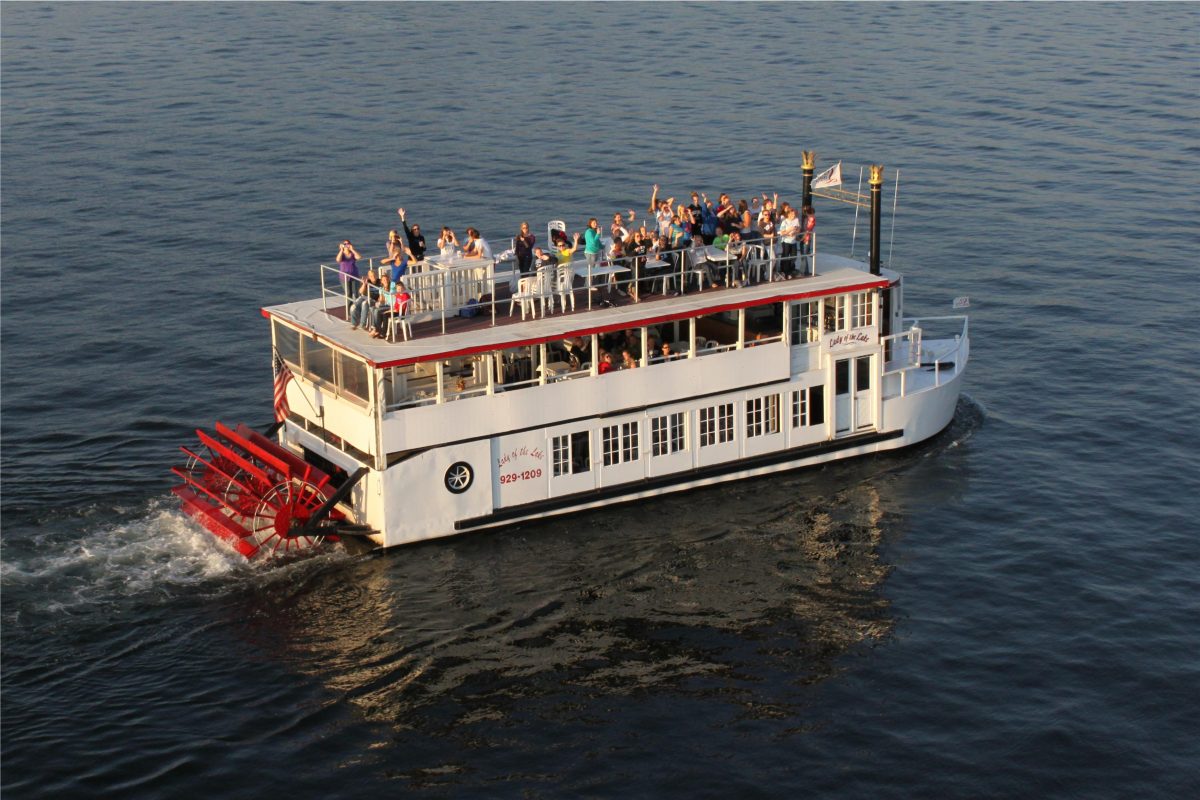 Tuesday, Thursday, Sunday –  Memorial Day weekend thru Labor Day weekend
 12:30-2:30 (Boarding starts at 12:15PM)
Additional Public Cruises:
_____________________________________________________
Added Public Cruise Dates:
                                 – Friday August 9th 6:00-8:00PM
                                 – Saturday August 10th 6:00-8:00PM
                                 – Sunday August 11th 3:00-5:00PM
                                 – Saturday August 17th 6:00-8:00PM
Book now to guarantee your spot.
Space is limited – Book online today!
Public Cruise Tickets!
All Cruises Leave from our Docks in Downtown Excelsior
– Boarding begins no later than 12:15pm
– Cruises are 2 hours long ~ 12:30-2:30PM.
– Public Cruises are offered every Tuesday, Thursday & Sunday.
– Additional public cruises are added for Holidays & Special Events!!!
– All publics cruises have a live narration on our 2 lower decks and FANTASTIC views from all 3 decks.
– Picnics are welcome onboard all we ask is an easy clean up & no alcohol!
– We do offer a Boaters Box Lunch for purchase. With your purchase, you will receive a Gourmet Chicken Salad with tossed almonds on a bed of lettuce in a croissant.  You do need to place your order 24 HOURS in advance! Any special dietary needs can be accommodate with a phone call. Cost: $12.99 plus tax.
– Full bar with sodas, coffee, and light snacks are available for purchase.
– There are 2 restrooms on the deck where you board Lady of the Lake.
– We highly recommend purchasing your tickets on-line to reserve your spot. Walk-ups are welcome, but are not guaranteed.
– Handicapped accessible: We do have 4 steps that require maneuvering, therefore we are not fully handicapped accessible. However, every effort can be made based on lake levels to accommodate wheel chairs, if being lifted on and off our vessel is a possibility. We have accommodated many wheel chairs through the years! Feel free to call for further questions!!!
– Tickets cost $16.00 Adults, $8.00 Children (ages 4-12), FREE (4 & under)
All Cruises Depart From and Return To Our Dock in Downtown Excelsior
                           8 Water Street
 Excelsior, MN 55331
Lady of the Lake has been entertaining parties for many public cruises and private occasions for over 40 years!
                                                             Wedding Events
                                                           Corporate Retreats
                                                          Company Functions
                                                       Anniversaries & Birthdays
                                                              Personal Events
When the occasion calls for a charming venue on Lake Minnetonka call Lady of the Lake
(952) 929-1209